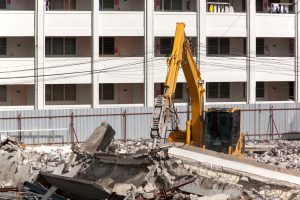 There are many reasons for hiring an experienced professional demolition contractor when you have a building that needs removal. It's tough to put most of them in any sort of order, but safety is always the first and foremost concern of professionals.
An approach that takes every possible safety-related factor into consideration ensures everyone on the job site gets to go home at the end of the day. It also protects equipment and vehicles that may be in the area.
At times there are buildings slated for demolition that are very close to other properties; that's not a problem because experienced demolition contractors can take them down without any collateral damage. A team such as the one at Deloury Industries, which has handled a broad range of demolition projects, is effective at doing this smoothly and seamlessly.
Not only are well-practiced teams able to easily take care of demolition in Boston, MA, but they can also do it quickly. This is often a factor when a property is slated for demolition, as it may pose a safety hazard in the form of a derelict or damaged building. There are also instances when a building should be demolished, so another project can proceed.
Also, professionals generally provide services that encompass the entire demolition project. Reliable contractors tear down the building and provide dumpsters to handle the waste and have it disposed of properly. Additionally, environmentally responsible companies sort materials into products that can be recycled and diverted from landfills.