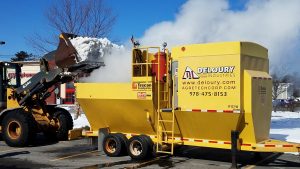 During the winter, the change in weather brings not only colder temperatures but also snow. This fluffy ice is wonderful to see fall. However, once it starts to collect on the ground, it can become a hazard — especially for commercial areas that get a lot of traffic. When this starts to happen, calling a reliable company for commercial snow removal in Boston, MA, is the way to go. You can have your property cleared of the frozen mush quickly and affordably.
There are many reasons to hire a professional to get rid of snow from around your property. With them on the job, you don't have to worry about doing it yourself. An experienced contractor, such as Deloury Industries, will come right to your commercial property to get to work while you handle other important matters.
Additionally, having a business tackle your snow job prevents damage from happening to your landscape and paved surfaces. These experts use the best removal methods and equipment to eliminate snow from your grounds. Plus, if the snow accumulates again, they are happy to come back for follow-up appointments. Ensure you have a snow removal company on speed dial when the winter comes. You'll thank yourself for it.